PRESS RELEASE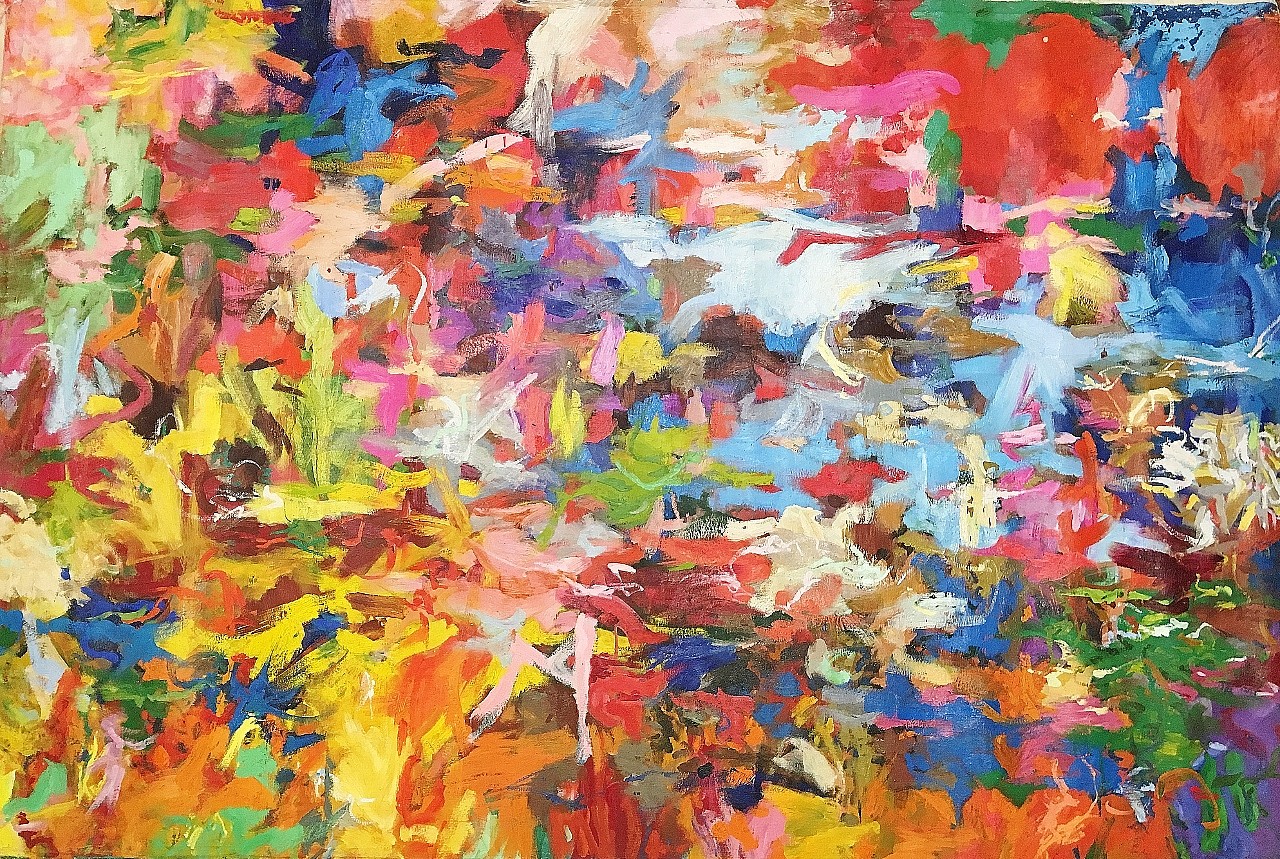 Some Artists (Who Are Women)
Sep 20 – Nov 22, 2018
Lawrence Fine Art is pleased to present "Some Artists (Who Are Women)" which will open on September 20th and continue for two months. The exhibition will include work by Amaranth Ehrenhalt, Louise Fishman, Jane Freilicher, Sonia Gechtoff, Harriette Joffe and Jane Wilson.
A well-timed show at the Denver Art Museum two years ago explored the contribution of the "Women of Abstract Expressionism" such as Elaine DeKooning, Joan Mitchell and Grace Hartigan. Since then, museums and collectors have begun to reappraise the works of and the prices of women artists in general.
Many of the women in this exhibition were indeed victims of a misogynistic art world, especially those who began to work in the 1950s. Amaranth Ehrenhalt, for one, remembers omitting her first name early in her career, because she knew that, as a woman, she would not get the same consideration as men. Indeed, she remembers one reviewer for the New York Herald telling her that he would not have reviewed her work had he known she was a woman.
Yet, at the same time, many of these artists--ones the gallery has spoken with and those who leave behind well-documented biographies--express a desire not to be regarded as female artists but just as artists. Pioneering AbEx artist Sonia Gechtoff is quoted as saying: "I wasn't the least bit interested in feminist art, and I still am not. We were feminist before the feminists came along." The one exception to this might be Louise Fishman whose abstraction attempt to reappropriate the very macho tradition of abstract expressionism.
The purpose of this exhibition is to begin to do what these great artists wanted us to do all along--to regard their work as it is. We invite you to examine their paint treatment, their compositional skills, their use of color, shape and form--to view the work as art by artists trying, as all artists do, to have us see anew.
All work is available for sale.
Artist biographies follow:
*The story of the post-WWII New York School painters is still being written. A well-timed show at the Denver Art Museum explores the contribution of the "Women of Abstract Expressionism" such as Elaine DeKooning, Joan Mitchell and Grace Hartigan. The only living member of that group is Amaranth Ehrenhalt, age 90.
Ehrenhalt journeyed to Paris after the war and settled there as an expatriate artist for the next forty-odd years. Le Select Cafe was the place where artists and cognoscenti met. There Ehrenhalt met Beauford Delaney and Yves Klein among others. There she befriended Giacometti. And there she exhibited with, among others, Joan Mitchell, Sam Francis, Shirley Jaffe and Norman Bluhm, most recently in 2017 at the Mona Bismarck Foundation in Paris as part of its "American Artists in Paris" exhibition.
*Born in Philadelphia in 1939, the artist Louise Fishman was on the front lines of the early feminist movement of the 1960s, and out in the streets for gay liberation. She was also hard at work in the studio, as she has been for 50 years.
Her political beliefs initially led her to abandon painting in favor of sculptural and material investigations following the realization that her influences came almost exclusively from male artists. Her 1973 return to painting was marked by her seminal "Angry Women" series, designed to confront the male-dominated art world through canvases bearing a feminist viewpoint. Her aim was nothing less than to reinvigorate the medium of painting-which at that time had been declared dead-through the addition of a strong female perspective.
The curator for the Brooklyn Museum Elizabeth Sackler Center for Feminist Art put it this way:
"[S]he reinvented and expanded the understanding of abstract painting, an artistic vernacular largely defined by the machismo of the American male artist."
Widely shown, Fishman's work is represented in many museum collections, including those of the Met, the High Museum of Art in Atlanta, the Brooklyn Museum, and the Jewish Museum, among others.
*For many years, the majority of the art world has treated the Abstract Expressionist movement as being predominantly male and New York-centered. . But in the recent years, a series of exhibitions, most notable among them the Denver Art Museum's 2015 exhibition "Women of Abstract Expressionism," has challenged that line of thinking, and the art market has begun to reappraise the careers of many of the women artists of that era. One of the major rediscoveries, for many, was Sonia Gechtoff.
Gechtoff is most commonly associated with the Bay Area Abstract Expressionist who, during the 1950s, engineered their own abstract style shortly after their New York peers rose to mainstream fame. She lived in San Francisco for much of that decade. The Bay Area artists they associated with knew that, by not working in a figurative mode, they were doing something truly radical. (When the San Francisco Museum of Modern Art's director, Grace McCann Morley, showed Abstract Expressionist painting, she was publicly accused of being a Communist.)
Drawing inspiration from the painter Clyfford Still, who had by then received widespread praise for his monumental canvases resembling torn wallpaper, Gechtoff developed a style that made use of wisps of paint. Jules Langsner, writing for ARTnews in 1959, noted that her work often immersed the viewer by way of "vast cascades of paint." She had gained national recognition in 1954, when her work was exhibited in the "Younger American Painters" show at the Solomon R. Guggenheim Museum in New York, alongside paintings by Willem de Kooning, Franz Kline, Robert Motherwell, and Jackson Pollock.
The Abstract Expressionist movement in New York had developed a reputation for being masculine, macho, and generally hostile toward women. But not so in the Bay Area. Gechtoff said: "I felt that they (male artists) treated me equally, that they weren't thinking of me as a woman painter, but as another painter."
Gechtoff moved to New York in 1958. She began producing paintings made on paper using acrylic, which dries more quickly than oil. By the mid-1980s, Gechtoff had combined all of her techniques in a series of painting-drawing hybrids for which she was lather canvases with acrylic and then draw in pencil on top of it. "Hudson River Night" is an example of this work. Writing in 1982, New York Times art critic Hilton Kramer said these pieces, which had been on view at New York's Gruenebaum Gallery, "carried her work in this medium to a remarkable level of realization."
Gechtoff's work can be found in the permanent collections at the Museum of Modern Art in New York, the Metropolitan Museum of Art, the Solomon R. Guggenheim Museum, the Oakland Museum of Art, the San Francisco Museum of Art, and the Smithsonian American Art Museum.
*Jane Freilicher (1924-2014) is known for her meditative, softly-brushed figurative works, mostly of flowers or the landscape surrounding her Hamptons home.
While Freilicher's work is anchored in the real world - "Realism is the only way I can do it," she once stated - it is a representation viewed through an idiosyncratic eye. Freilicher embraced a particularly bright, elemental palette of turquoises, lime greens, corncob yellow and summery blues. While her influences were distinctly French, in particular the canvasses of Pierre Bonnard and Henri Matisse created half a century earlier, her closest artistic touchstones were perhaps David Hockney's Yorkshire views and the seascapes of the Scottish Colourists.
Her work is in the collections of the Brooklyn Museum, the MOMA, the Met and the Whitney.
*Harriette Joffe's career spans the post-World War II Abstract Expressionist movement to the present. Embraced by the first generation of Abstract Expressionist painters on the East End of Long Island, she represents one of the last living links to central figures in the avant-garde of 20th century American art, including such artists as Willem De Kooning, Philip Pavia, Ibram Lassaw, John Little and Balcomb Greene. She has exhibited nationally in galleries and museums, showing alongside artists such as Roy Lichtenstein, Eric Fischel, Linda Benglis, April Gornick, Larry Rivers, and Jackie Windsor.
Joffe also worked with the pioneering Down Under Manhattan Bridge Overpass, or DUMBO, artists finding a voice within the then emerging New York City avant-garde in the 1970s. Joffe's contribution to the history of Abstract Expressionism is featured in the East Hampton Parrish Museum's "oral histories" series.
*Born in Iowa in 1924, Jane Wilson is known for a career that negotiated a delicate balance between absolutely realistic subject matter--mostly landscapes-- and an abstractionist's care for the purity of color and form. One critic writes of her work: "Her outdoor transformations point to the constant re-visioning of reality that is the very reason painters paint."
Wilson studied with Philip Guston at the University of Iowa in the 1940s. In 1949, she and her husband left for New York and settled in Greenwich Village. At that time, Wilson was working in an abstract expressionist mode, creating work that resonated with the energy of the moment. Later in the decade, she shifted to expressionist landscapes. Among the many artists whom she met at the time, Fairfield Porter, older and more established, became especially important to her, as his commitment to modernist representational painting supported her return to landscape painting.
Later she would become friends with Jane Freilicher--"the two Janes"--and both would spend large periods of time at their homes in Watermill, in the Hamptons. There the atmospherics of the flat land, the beach, the water and the sun would greatly influence Wilson's later work.
Alice Neel was a friend of Wilson and her husband John Gruen and painted them and their daughter. The Family is one of her best-known works.
Wilson's work can be found in the collections of the Met, the Museum of Modern Art, the Whitney, the Hirshhorn, the Art Institute of Chicago and the San Francisco Museum of Modern Art, among others.