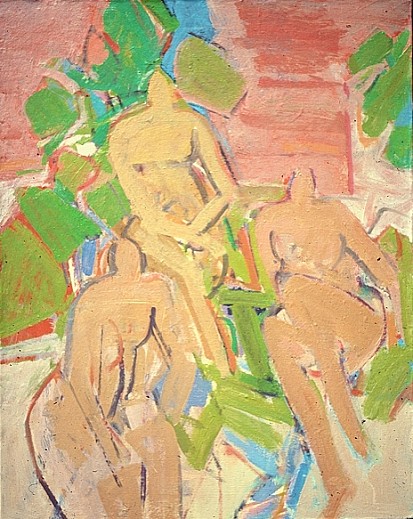 Lawrence Fine Art to Represent Downtown Artist Charles Cajoria
March 15, 2021
Lawrence Fine Art is pleased to announce that it will represent the work of American artist Charles Cajori, one of the founders of the "Downtown" artistic scene.
Charles Cajori (1921-2013) was an important second generation abstract expressionist painter. He was also an important teacher and active artist in the 10th Street scene. In 1952, he founded, along with Fred Mitchell, Lois Dodd, Angelo Ippolito and Sally Hazelitt, the artist cooperative Tanager Gallery. In 1964, joining with former students of the Pratt Institute and several artists including Mercedes Matter, Sidney Geist, Georgio Spaventa, and Esteban Vicente, he founded the New York Studio School of Painting Drawing and Sculpture. His work can be found in the collections of the Corcoran, the Hirshhorn, the Metropolitican Museun the Whitney Museum, the Denver Art Museum and numerous other institutions.
Cajori always worked with the tension between the fixed reality of the female figure and the flux of perceptual and gestural response. Indeed, ike De Kooning, Cajori never completely left the figure even if his work could be termed abstract. His work owes a debt to Cezanne, Titian, Soutine and De Kooning. Unlike many of his contemporaries, Cajori did not attempt to discard his artistic forbears but to work through them to his own artistic expression.
Once critic wrote:
"Cajori's ...work.... suggests a reexamination of Cézanne in light of de Kooning, to whom Cajori's brushwork owes an obvious debt. Cajori seems to pit these two masters against one another to seek a common ground as a base for his own work. This technique of working in response to masters, common to painters as far back as Giotto, is an indication of the esteem in which Cajori holds his tradition."
Another said:
"Hearing Cajori talk, one soon realized that painting for him was an almost mystical pursuit. It demanded an almost spiritual awareness of the process of seeing, and fearlessness about adapting to its ever-changing demands."
Cajori was one of the artist-founders of the influential Tanager Gallery. The gallery aimed to bring a whole new generation of artists to the attention of patrons who were not seeing them in the Uptown galleries of the day. The recent exhibition at the NYU Grey Gallery "Inventing Downtown: Artist-Run Galleries in New York City, 1952–1965" in 2017, showed that the Tanager Gallery was an important influence in establishing the "Downtown Scene" and lending credibility to artists who are today household names, including Alex Katz and Tom Wesselman.
Back to News