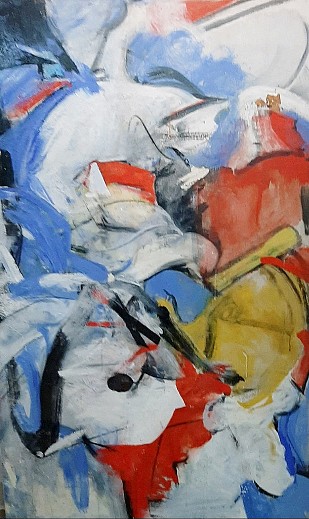 Lawrence Fine Art to Highlight New York School Artists at Hamptons Virtual Art Fair
August 21, 2020
Lawrence Fine Art will offer works by a number of prominent post-war New York School artists, as well as contemporary works, at the Hamptons Virtual Art Fair, September 2-7. The portal for the fair, which is already accessible, can be accessed here. Once in the portal, fair goers can see the works in 2D or 3D format, ask questions in the live chat room, view the works on their home walls if they use the App, and of course purchase the works.
"We are so happy to be working with Rick Friedman and his crew," said Gallery Director Howard Shapiro. "They are developing cutting edge technology to help collectors view and consider art all while staying safe." The fair features enhanced functionality developed to help fair goers enter as quickly as possible.
Lawrence Fine Art will present work from a variety of post-war New York School artists, including Robert de Niro, Sr., Jean Steubing, Gandy Brodie, Melville Price, Vivian Springford, Amaranth Ehrenhalt and Robert Neuman. "This is one of our strongest line-ups ever," said Shapiro. "We are particularly proud to be presenting work by Jean Steubing. Not only did she plan the seminal 9th Street Show in 1951, but she also participated. The circle of 'The Women of Abstract Expressionism' continues to grow."
Gandy Brodie is an artist who has not been seen at art fairs for awhile. "It's hard to believe this master has been ignored," said Shapiro, who said that Giotto's Angels by Brodie, to be shown, is a favorite of his. Both Melville Price and de Niro, Sr. exhibited at the 9th Street Show.
The line-up also includes works by photographer Howard Schatz, and contemporary artists Janet Mait, Geoffrey Dorfman and Angel Ortiz (aka LA2). "Howard is always excellent and Janet and Geoff have both created new work recently," said Shapiro. "We hope to provide collectors with a safe and immersive experience."
Back to News