BIOGRAPHY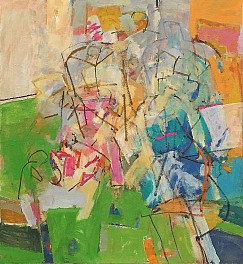 American, 1921-2013
Cajori was an important second generation abstract expressionist painter. In 1952, he founded, along with Fred Mitchell, Lois Dodd and Angelo Ippolito, the artist cooperative The Tanager Gallery. In 1964, joining with former students of
Pratt Institute
and several artists including
Mercedes Matter
, Sidney Geist, Georgio Spaventa, and
Esteban Vicente
, he founded the
New York Studio School of Drawing, Painting and Sculpture
. His work can be found in the collections of the Corcoran, the Hirshorn, the Met, the Whitney and the Denver Art Museum, among other.
Cajori, who was born in 1921, always worked with the tension between the fixed reality of the nude female model and the flux of perceptual and gestural response. One also feels in his drawing the tension between academic conviction and the urge for more creative and emotional freedom.
His early career works were nearly completely abstract. He returned to the figure decisively in the second half of his career. His work owed a debt to Cezanne and De Kooning. Wrote one critic:
"Cajori's ...work.... suggests a reexamination of Cézanne in light of de Kooning, to whom Cajori's brushwork owes an obvious debt. Cajori seems to pit these two masters against one another to seek a common ground as a base for his own work. This technique of working in response to masters, common to painters as far back as Giotto, is an indication of the esteem in which Cajori holds his tradition."
Another wrote:
"Hearing Cajori talk, one soon realized that painting for him was an almost mystical pursuit. It demanded an almost spiritual awareness of the process of seeing, and fearlessness about adapting to its ever-changing demands."
In addition to his painting, Cajori was a co-founder of the Tanager Gallery, which was an important influence in establishing the "Downtown Scene" and lending credibility to artists who are today household names, including Alex Katz and Tom Wesselman. The Tanager was the subject of an exhibit at NYU's Grey Gallery called "Inventing Downtown:
Artist-Run Galleries in New York City, 1952–1965" in 2017.