BIOGRAPHY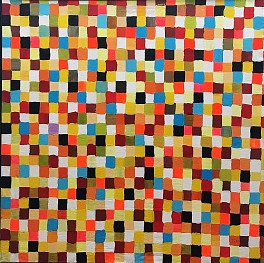 American, 1917-2014
John Grillo (1917-2014) was instrumental in the development of Abstract Expressionism on both coasts of the U.S. Born in Lawrence, Massachusetts, Grillo moved to San Francisco shortly after he was decommissioned from the Navy after the end of WWII. There he enrolled in the California Institute of Art and studied with, among others, Richard Diebenkorn. Although he remained in San Francisco for two only two years, he was considered instrumental in the development of Abstract Expressionism in California.
In 1948, he moved to New York. Grillo studied with Hans Hofmann, the famed German expat whose raucously colored canvases juxtapose hard-edged shapes with gestural backgrounds. Grillo's signature style, demarcated by an interest in bold colors and grid-like patterns, was formed during this period. The warm colors of his canvases earned him comparisons to Renoir and Rubens.
Grillo had more than 85 solo exhibitions during his career. His work is in the collections of the Museum of Moderns Art, the Whitney, the Brooklyn Museum, LACMA, and the Met, among others.
Grillo's mosaic paintings were mostly executed between 1950 and 1952 and are Grillo's singular, personal, and directly painted response to the concepts espoused by Hofmann. Their exuberant spontaneity is immediately evident and they convey an almost contagious joi-de-vivre. Although intensely colorful, Grillo's mosaics seem to emerge from a limited palette, often on a neutral ground with just a few, almost -primary hues.