BIOGRAPHY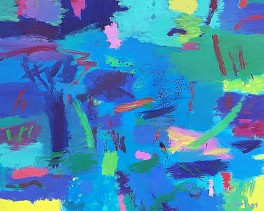 American, 1924-2019
Brodsky was a "romantic" painter, although he painted abstractly, and a master colorist. His abstract works are not "action paintings" in the sense of De Kooning or Pollock, but explorations of an interior world and mood at any given time or over the course of time. He uses color to conjure these interior worlds.
Brodsky, who died in 2019 at 93, came to abstraction relatively late in life--he often said that he struggled to throw off the figure and the horizon line--but did some of his best work late in his career, in his 80s and 90s.
"Brodsky's career unfolded on Long Island, away from the busy art scene of Manhattan, which might explain why he is not as well-known as some of his famous colleagues. Nevertheless, his work merits full consideration and rediscovery," wrote one critic.
Brodsky's last retrospective was at the Hecksher Museum in 2013. He showed often with June Kelly Gallery in NYC. In addition to the Hecksher, his work may be found in the collections of Guild Hall, East Hampton; the Parrish Museum; the Baltimore Museum of Fine Art; the Neuberger Museum; the Farnsworth; the Telfair Museum, and many other institutions. We at Lawrence Fine Art included him in our "Works in Progress" exhibition in 2016 and gave him a solo exhibition of new works in 2017.