PRESS RELEASE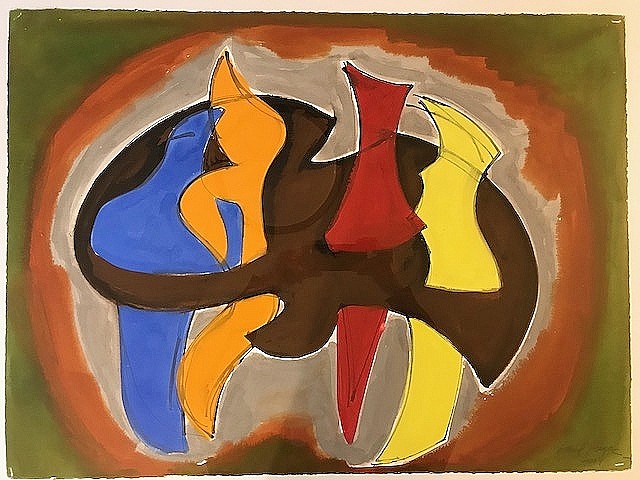 A Different Kind of Languague: Sculpture Studies by David Hayes
Mar 8 – Mar 29, 2018
Lawrence Fine Art will present "A Different Kind of Language: Sculpture Studies by David Hayes" beginning Thursday, March 8 and continuing for three weeks.
Throughout his sixty-year-artistic-career, Hayes (1931-2013) created sculptural forms abstracted from organic forms encountered in daily life. His sculptures have affinities to Alexander Calder's playful stabiles (Hayes knew Calder in Paris) and to the shapes and colors of Matisse's late paper cutouts. Hayes's works are firmly rooted in Modern artists' interests in industrial materials and in commercial fabrication processes. His work is in more than 70 museum collections.
Hayes first studied with the noted American sculptor David Smith. From his teacher, Hayes mastered an appreciation for the permanence of steel. In Indiana, where Smith taught, both Smith and Hayes learned about forging from a local blacksmith. Smith began his Forging Series in 1955, and continued to create his revered Tanktotems. Hayes forged his own animal forms, sculptures that were quickly accepted into shows at New York's Museum of Modern Art and the Guggenheim Museum's inaugural exhibition in 1959.
Hayes generally conceived his work on paper before execution. This enabled him to work through ideas and problems before executing large-scale 3D pieces. At the same time, these studies for sculptures serve as works of art in-and-of themselves, stand-alone works that serve as consummate examples of how one artist approached issues of mass, color, size, texture and three dimensionality.
"A Different Kind of Language" will show many of these works, each a study for an actual sculpture. Several of these sculptures will be shown as well. "It is a chance to see the artist's thought process from beginning to--where we have the sculptures--end," said Gallery Director Howard Shapiro. "At the same time, we believe these studies can be viewed as works of art themselves, which is how we are presenting them."